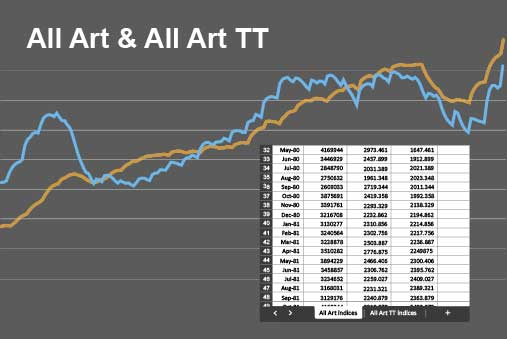 AMR's All Art indexes are the result of over 40 years experience quantifying sales of art.
AMR's All Art indexes are useful for benchmarking valuations or investment strategy.
AMR's All Art family of indexes can be used to for correlation analysis and support business decision making.
AMR's All Art Indexes have been designed to measure average values. Using price data from the top auction houses worldwide, the All Art algorithm employs a simple moving average in its calculation. With no complex methodology involved, you can be confident that the datasets provide an accurate measure of collector behaviour at auction. For more information visit  All Art Methodology
AMR's All Art indexes have been created specifically for the art market. AMR's analysts use a unique system of processing artworks to ensure the data is high quality and fit for purpose. The data is then carefully filtered to allow individual artist and groups of artist indexes to be developed.
AMR has been supplying data to art market professionals and businesses since 1978. Our clients recognize that AMR's indexes reflect 'market sentiment' by reporting prices from the top salerooms worldwide as they happen. The information is used to benchmark valuations, support decision making and provide insights for market reports.
All Art & All Art TT Indexes
Dataset in CSV format
Smoothed and Unsmoothed series
AMR's Indexes are offered for internal research purposes only.
By purchasing All Art Indexes you are agreeing to the Terms of Use.
Copyright © 2023 Art Market Research, All Rights Reserved